Grainger Contract Highlights
Grainger is a leading distributor of Maintenance, Repair, and Operations (MRO) equipment, industrial supplies, tools, and materials. With easy access to over 1.5 million products, dedicated reps, free technical support and industry-specific services and resources, we are here to help keep your operations running, people safe, and costs under control via our Grainger Contract.
26 Category Discounts ranging from 5-35% off of Grainger Contract Reference Price.
Deeper discounts on frequently purchased products.
Includes products in the Grainger catalog and on Grainger.com, as well as hard-to-find items.
Member Incentive Program.
Free standard parcel shipping*.
Same-day shipping** on 98% of in-stock items.
Real-time product availability and order tracking.
Dedicated resources to assess your site and consolidate spend to help maximize savings.
Access to hundreds of services and solutions, including: Emergency Preparedness, Energy, Environmental Health & Safety, Facility, Industry-specific, Lighting, and Sustainability.
After-Hours Emergency Service by calling 1-800-CALL-WWG (1-800-225-5994) to open a branch any time, even nights and weekends ($50 fee may apply)
* Grainger pays all standard parcel shipping. Buyer is responsible for LTL and all other freight services.
** Available within the continental U.S. when your order is received by 5 p.m. local time at the shipping facility. Shipping facility may be in different time zone from you.
Critical Supporting Documentation
Download this contract confirmation letter to secure written documentation of the solicitation and awarded contract, the Contract # for your files, utilization eligibility, and how to receive answers to any additional questions you may have.
Share The Member Kit With Your Procurement Team
Facilitate your procurement and compliance team's review and approval of this cooperative contract by providing them this Member Kit. The Member Kit contains: i) an overview of Equalis Group and how our Lead Agencies procure contracts, ii) the contract confirmation letter, iii) an overview of the awarded supplier and the products and services available through this contract, and iv) commonly asked questions about Equalis Group membership and how to access any of our publicly procured, competitively solicited contracts.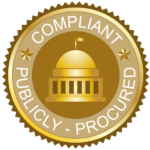 ---
Contract#:
COG-2108A
Lead Agency:
CCOG
Current Term:
03.01.2021 – 02.29.2024
Renewable Through:
02.28.2026
Who is Grainger?
Grainger is America's trusted source for MRO supplies and industrial products. For over 90 years, we've built a tradition of getting customers the products and services they need. Grainger offers over 1.5 million products from thousands of trusted MRO suppliers, plus online features and a mobile app that let customers order their MRO equipment and manage their orders whenever and wherever they are. We back up our products with 24/7 customer service and technical support from experts with deep knowledge of MRO tools and products.
Why Grainger?
We can help you:
Gain more visibility into your spend to understand savings opportunities.
Reduce complexity in purchasing, managing, and utilizing your inventory.
Reduce costs and operational expenses by streamlining processes.
Manage compliance to both internal policies and external regulations.
Gain expertise without adding headcount through our specialist network.
How Do I Get Started?
If you are not yet a part of the Equalis Group family, Become a Member today to access our entire portfolio of contracts. We promise there are never any costs, hidden fees, gimmicks, or volume commitments.
Accessing this publicly procured contract vehicle is easy and hassle-free. Please reach out to your Member Engagement Resource or fill out the Contract Interest Form at the top of this page.
Save Time, Save Money & Stay Legal with Equalis Group.