Watchfire Contract Highlights:
Extensive product line of scoreboards, digital displays, audio systems, control room systems, and accessories with broad use case applicability.
Complete design-build services, from idea through installation, that leverage a six-step process to simplify the construction process, maximize savings, fast-track completion, and reduce overall project management stress.
Installation, integration, and service available nationwide through a combination of in-house resources and a global network of licensed dealers and subcontractors.
Cooperative pricing provided exclusively to Equalis Group members.
Download this contract confirmation letter to secure written documentation of the Master Agreement and Contract # for your files, as well as additional information about the contract, utilization eligibility, and how to receive answers to any additional questions you may have.
Watchfire Products & Services
Who is Watchfire Signs?
Since 1932, Watchfire, originally known as Time-O-Matic, has relied on a tireless, Midwestern work ethic to outperform the competition. Watchfire products are conceived, designed, tested, and supported in-house because Watchfire understands that having these key teams under one roof gives them a much higher degree of quality control.
Headquartered in Danville, Illinois, Watchfire emphasizes communication among design, manufacturing, and service. The synergy between these groups increases efficiency and drives product innovation. Watchfire displays are built to order, customizing each to fit the needs of the customer while maintaining complete control of the process and quality. Today, Watchfire currently has over 60,000 LED signs in operation worldwide.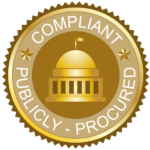 ---
Contract#:
COG-2103B
Lead Agency:
CCOG
Current Term:
11.01.2020 – 10.31.2025
Renewable Through:
10.31.2025
How Do I Get Started?
If you are not yet a part of the Equalis Group family, Become a Member today to access our entire portfolio of contracts. We promise there are never any costs, hidden fees, gimmicks, or volume commitments.
Accessing this publicly procured contract vehicle is easy and hassle-free. Please reach out to your Member Engagement Resource or quickly send the Contract Interest Form at the top of this page.
Save Time, Save Money & Stay Legal with Equalis Group.