Tech Logic Contract Highlights
Tech Logic has been a pioneer in the Library Automation Technology space for nearly a quarter century — having created the Library Industries first Automated Material Handling system and being one of the earliest adopters of RFID technology. Our parent company, The Library Corporation (TLC) is celebrating over 45 years of providing library services to all kinds of libraries—from single-site installations to the largest and busiest systems in the world. Their Library

•

Solution and CARL library software platforms are built on mobility, flexibility, and operational efficiency.
Innovative and intuitive patron self-service solutions designed to blend with any library aesthetic.
RFID technologies to assist in inventory management, theft protection, and material handling processes.
Powerful, administrative reporting tools tying together the entire Tech Logic eco-system of solutions.
Top-tier, U.S. based customer service and support teams, consistently reported as best-in-industry.
Download this contract confirmation letter to secure written documentation of the Master Agreement and Contract # for your files, as well as additional information about the contract, utilization eligibility, and how to receive answers to any additional questions you may have.
Who is Tech Logic?
Tech Logic is the leading provider of innovative sorting technologies, circulation staff support tools, and patron self-service solutions for public and institutional libraries throughout North America. Over 20 years ago, Tech Logic created the first automated materials handling system specifically designed for the library industry to address the redundant and repetitive staff-work associated with checking in returned materials. Our philosophy then is the same as it is today — Automation should accentuate the efficiencies of an operation, not highlight the inefficiencies.
Our innovative and patented AMH solutions offer the most simple, efficient, and user-friendly experience for both patrons and staff. Tech Logic was an early adopter of patron self-service solutions and circulation staff technologies in the library industry. Also an early adopter of RFID and payment options for patrons, Tech Logic has always been on the cutting edge of self-service automation tools. Looking to the future, Tech Logic is invested in developing products and services that meet the needs of our Partner Libraries.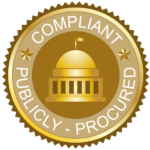 ---
Contract#:
R10-1118A
Lead Agency:
Region 10 ESC
Contract Term:
07.01.2021 – 06.30.2024
Renewable Through:
06.30.2028
How Do I Get Started?
If you are not yet a part of the Equalis Group family, Become a Member today to access our entire portfolio of contracts. We promise there are never any costs, hidden fees, gimmicks, or volume commitments.
Accessing this publicly procured contract vehicle is easy and hassle-free. Please reach out to your Member Engagement Resource and let us help you achieve your procurement goals today.
Save Time, Save Money & Stay Legal with Equalis Group.