Autoclear Threat Detection
Contract Highlights
Threat detection is our only business.
Core technologies include X-ray, trace detection, and metal detection.
Made in the USA since 1988.
All technologies are easy to learn, operate, and maintain.
Factory service and support covering 48 contiguous states.
Critical Supporting Documentation
Download this contract confirmation letter to secure written documentation of the solicitation and awarded contract, the Contract # for your files, utilization eligibility, and how to receive answers to any additional questions you may have.
Share The Member Kit With Your Procurement Team
Facilitate your procurement and compliance team's review and approval of this cooperative contract by providing them this Member Kit. The Member Kit contains: i) an overview of Equalis Group and how our Lead Agencies procure contracts, ii) the contract confirmation letter, iii) an overview of the awarded supplier and the products and services available through this contract, and iv) commonly asked questions about Equalis Group membership and how to access any of our publicly procured, competitively solicited contracts.
Autoclear Case Study
In 2006, a major school district in the Kansas City area decided to purchase laptop computers for all of its High School students. As part of that decision, the administration determined that the security at the front door should also be upgraded. The unusual thing about this situation was that the administration wanted x-ray scanners at the front door, but the security department did not. Usually the feelings are just the opposite. Screening officers felt that they could perform a complete search of a student's bag in just a few seconds.
Autoclear offered to put in a demo machine for one week so that the effectiveness of the scanners could easily be measured. The machine was installed on a Friday afternoon and the officers were trained. Previously, it would take about 25 minutes for all the students to be screened. On Monday after the machine was installed, it took 35 minutes to get the students in the building. But on Friday, after the learning curve was overcome, it took less than 15 minutes to admit all of the students. While the usual knives and other small weapons were expected to be found, they were surprised to find that about 30 percent of the students were bringing scissors into class (large sharp sewing scissors). This resulted in machines being purchased for every high school in the district. Four years later, every elementary school in the district also received Autoclear machines.
The installation of Autoclear machines allowed students to enter the building quicker, security officers performed more thorough searches, and a safer environment was created for students of the district.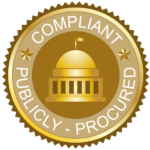 ---
Contract#:
R10-1129B
Lead Agency:
Region 10 ESC
Current Term:
05.01.2022 – 04.30.2025
Renewable Through:
04.30.2027
Who is Autoclear?
Autoclear's roots trace back to 1938 as part of Philips Electronics. In 1988, they became a privately-owned New Jersey-based company known as Control Screening. They evolved through acquisition. In addition to the Philips Scan-tech line, they acquired the Federal Laboratories Checkgate Division and Canadian based Scintrex Limited, which added Metal Detection Equipment and state of the art trace detection for narcotics and explosives. The innovative Cross-Enhanced Backscatter systems were developed internally by the Autoclear development team.
Autoclear X-ray Scanners are not only used in major school systems throughout the United States, but two of the three largest theme parks in the United States now use Autoclear threat detection equipment to help assure the safety of their guests. Autoclear's easy to operate design makes it possible for those parks to screen thousands of guests every day.
Autoclear specializes in the design, manufacture, and support of high-quality security systems through X-ray scanners, metal detection, and the advanced trace detection of narcotic and explosive materials.
Contact Autoclear
Gregory Schaefer,
Midwest Regional Manager
Autoclear LLC
847-540-7266
gregs@autoclear.com
How Do I Get Started?
If you are not yet a part of the Equalis Group family, Become a Member today to access our entire portfolio of contracts. We promise there are never any costs, hidden fees, gimmicks, or volume commitments.
Accessing this publicly procured contract vehicle is easy and hassle-free. Please reach out to your Member Engagement Resource or quickly send the Contract Interest Form at the top of this page.
Save Time, Save Money & Stay Legal with Equalis Group.