Fortinet Cybersecurity Services | Contract Highlights
Fortinet is one of the world's top cybersecurity services, delivering broad, integrated, and automated protection to enable organizations to securely accelerate their digital journey.
The Fortinet Security Fabric is at the heart of the Fortinet security strategy. It is a platform organically built around a common operating system and management framework to enable broad visibility, seamless integration, and interoperability between critical security elements, and granular control and automation.
Fortinet's Security Processors radically increase the speed, scale, efficiency, and value of Fortinet solutions.
Fortinet submits its products for impartial, third party performance and effectiveness testing with the most prominent organizations in the industry, with consistent positive results.
Fortinet is recognized as a LEADER in 2 Gartner® 2021 Magic Quadrant™ Reports: Network Firewalls and WAN Edge Infrastructure.
Download this contract confirmation letter to secure written documentation of the Master Agreement and Contract # for your files, as well as additional information about the contract, utilization eligibility, and how to receive answers to any additional questions you may have.
Cybersecurity Service Resources
Who is Fortinet?
Fortinet secures the largest enterprises, service provider, and government organizations around the world. Fortinet empowers its customers with intelligent, seamless protection across the expanding attack surface and the power to take on ever-increasing performance requirements of the borderless network—today and into the future. Only the Fortinet Security Fabric architecture can deliver cybersecurity services without compromise to address the most critical security challenges, whether in networked, application, cloud, or mobile environments. Fortinet ranks number one in the most security appliances shipped worldwide and more than 500,000 customers trust Fortinet to protect their businesses.
For over 20 years, Fortinet's mission has been to secure people, devices, and data. Fortinet has been the driving force in the evolution of cybersecurity and the convergence of networking and security. Fortinet's network security solutions are the most deployed, most patented, and among the most validated in the industry.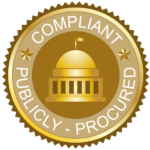 ---
Contract#:
COG-2127C
Lead Agency:
CCOG
Current Term:
07.01.2022 – 06.30.2026
Renewable Through:
06.30.2027
How Do I Get Started?
If you are not yet a part of the Equalis Group family, Become a Member today to access our entire portfolio of contracts. We promise there are never any costs, hidden fees, gimmicks, or volume commitments.
Accessing this publicly procured contract vehicle is easy and hassle-free. Please reach out to your Member Engagement Resource or quickly send the Contract Interest Form at the top of this page.
Save Time, Save Money & Stay Legal with Equalis Group.