RhinoWare Door Lockdown Device
RhinoWare is a mechanical lockdown system that can be attached to most existing doors, fully protecting people in the room from intruder breach attempts.
RhinoWare is Fire Marshal approved for single motion egress and is ADA approved for wheelchair positioned operation.
Can be easily operated by a child in one second. The door lockdown device is able to be unlocked from the outside using a custom key assigned to school administrators and local fire/police.
Allows connection to existing security systems software with the ability to alert each time a device is deployed.
RhinoWare® door lockdown devices are now available to purchase through the CORE Construction Contract #EQ-101519-02A.
Critical Supporting Documentation
Download this contract confirmation letter to secure written documentation of the solicitation and awarded contract, the Contract # for your files, utilization eligibility, and how to receive answers to any additional questions you may have.
Share The Member Kit With Your Procurement Team
Facilitate your procurement and compliance team's review and approval of this cooperative contract by providing them this Member Kit. The Member Kit contains: i) an overview of Equalis Group and how our Lead Agencies procure contracts, ii) the contract confirmation letter, iii) an overview of the awarded supplier and the products and services available through this contract, and iv) commonly asked questions about Equalis Group membership and how to access any of our publicly procured, competitively solicited contracts.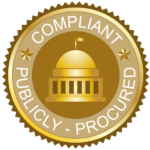 ---
Contract#:
EQ-101519-02A
Lead Agency:
Region 10 ESC
Current Term:
01.01.2020 – 12.31.2023
Renewable Through:
12.31.2024
See all contract documentation on the CORE Construction page here.
RhinoWare Door Lockdown Device
The RhinoWare® Lockdown System secures any room at a moment's notice in the event of an active shooter, armed intruder incident, or when a violent situation could be underway. The simplicity of use, combined with high force resistance has made RhinoWare® the most popular intruder security product in the marketplace. Fire Marshals, Police Chiefs, and Security Directors can rest easy knowing it is the only door lockdown system that is completely compliant for fire safety and ADA codes.
RhinoWare Connect
RhinoWare® Connect differentiates itself with the immediate notification of the RhinoWare® Door Lockdown System engagement. This alerts the customers' Physical Security Management System, which can then trigger video surveillance of the lockdown area as well as mass notification of possible shooter presence, lockdowns, etc. A standalone notification platform is also offered.
Connects via WI-FI or LoRaWan to the RhinoWare® Connect cloud-based server.
RhinoWare® Connect server sends out notifications, either in standalone mode or to the backend physical security management system.
About RhinoWare®
Campus Safety Products, LLC., (CSP), headquartered in Jacksonville, North Carolina, manufactures the highly intuitive and secure Emergency/Active Shooter door lockdown device, branded as RhinoWare Lockdown System, for the purposes of securing classrooms, offices, break rooms, conference rooms, utility rooms, and any other room in which individuals can "shelter-in-place" at a moment's notice. In addition to the RhinoWare suite of products, CSP also offers professional services which primarily focus on comprehensive All-Hazard Risk Preparedness Assessments, Planning Development, Implementation, and Training.
CSP is a Minority woman-owned business. The device is manufactured by an MBE company, Mid Atlantic Fabrication.
DUNS 080532743
CAGE 720v7
About CORE Construction
CORE Construction is a distributor of the RhinoWare® door lockdown systems, now available through this contract.
CORE is a family-owned construction company founded in 1937 whose primary mission is to earn the trust of its employees, partners, and clients. CORE has grown from a small masonry company in Illinois to a national General Contractor with over twenty regional offices.
CORE's project portfolio consists of both private and public sector work across the United States. Its team provides exceptional building services in a variety of construction disciplines serving the JOC, educational, municipal, P3, office, retail, religious, senior living, hospitality, healthcare, light industrial, and federal markets.
With each project CORE undertakes, it offers you the resources of over 1,500 employees and a bonding capacity of over $1.25 Billion. CORE is successful when its clients' projects finish on time, within budget, and with the highest quality construction.
Learn more about CORE on the CORE Construction Page.
How Do I Get Started?
If you are not yet a part of the Equalis Group family, Become a Member today to access our entire portfolio of contracts. We promise there are never any costs, hidden fees, gimmicks, or volume commitments.
Accessing this publicly procured contract vehicle is easy and hassle-free. Please reach out to your Member Engagement Resource or quickly send the Contract Interest Form at the top of this page.
Save Time, Save Money & Stay Legal with Equalis Group.