Edustaff Contract Highlights
Proactive substitute placement strategies leading to increased fill rates.
Local employees engaging in specific, customized marketing and recruiting strategies.
Live classroom management workshops for all classroom-based employees.
Clear, fixed pricing and no finder's fees.
Time and money saved with Edustaff maintaining payroll and benefits for all Edustaff employees.
Critical Supporting Documentation
Download this contract confirmation letter to secure written documentation of the solicitation and awarded contract, the Contract # for your files, utilization eligibility, and how to receive answers to any additional questions you may have.
Share The Member Kit With Your Procurement Team
Facilitate your procurement and compliance team's review and approval of this cooperative contract by providing them this Member Kit. The Member Kit contains: i) an overview of Equalis Group and how our Lead Agencies procure contracts, ii) the contract confirmation letter, iii) an overview of the awarded supplier and the products and services available through this contract, and iv) commonly asked questions about Equalis Group membership and how to access any of our publicly procured, competitively solicited contracts.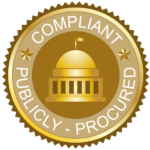 ---
Contract#:
COG-2148B
Lead Agency:
CCOG
Current Term:
09.01.2023 – 08.31.2027
Renewable Through:
08.31.2028
Who is Edustaff?
Edustaff has been providing substitute staffing services for public school districts since 2010. Employing over 50,000 substitute employees across 600 districts in 11 states, Edustaff has become a reputable and reliable partner in the K-12 space. Edustaff's strategic marketing and training plans not only equip partnering school districts with an increased number of high-quality substitute teachers, but also provide immediate savings for school districts' most important commodity: their time. An Edustaff partnership empowers school districts to focus on their core mission of educating students while Edustaff provides a top-notch substitute management program.
Discover more information about Edustaff on the Edustaff Blog page.
Contact Edustaff
Phone: 877.974.6338
Fax: 877.974.6339
How Do I Get Started?
If you are not yet a part of the Equalis Group family, Become a Member today to access our entire portfolio of contracts. We promise there are never any costs, hidden fees, gimmicks, or volume commitments.
Accessing this publicly procured contract vehicle is easy and hassle-free. Please reach out to your Member Engagement Resource or quickly send the Contract Interest Form at the top of this page.
Save Time, Save Money & Stay Legal with Equalis Group.