Epic Solar Control
Contract Highlights
Epic is a premier 3M security window film company providing window film solutions, window graphics, and window coverings for schools and commercial buildings. As a security film industry pioneer, Epic is uniquely positioned to provide the security expertise and installation quality needed to protect our schools by reinforcing the most vulnerable access points- glass windows and doors. Equalis Group Members leveraging this publicly procured contract can expect the following from Epic:
Competitive and transparent pricing with an average of 10% discount for Equalis Group Members on all products and installation services provided by Epic.
Epic is a US Top 10 Certified 3M Prestige dealer offering the industry's highest quality, breach-resistant security window film and best-in-class product and installation warranty.
As security window film experts, Epic provides unmatched insights and guidance combined with a dedicated and experienced team of experts to ensure your project runs smoothly, is completed on time, and results in your complete satisfaction.
Installations are performed by Epic's certified safety and security teams adhering to stringent and proprietary processes and tools that ensure premium quality workmanship and long-term product integrity and durability.
Partnership-driven, lifelong relationship with an award-winning, local contractor readily available to service all your warranty and maintenance needs. Safety is a priority.
Critical Supporting Documentation
Download this contract confirmation letter to secure written documentation of the solicitation and awarded contract, the Contract # for your files, utilization eligibility, and how to receive answers to any additional questions you may have.
Share The Member Kit With Your Procurement Team
Facilitate your procurement and compliance team's review and approval of this cooperative contract by providing them this Member Kit. The Member Kit contains: i) an overview of Equalis Group and how our Lead Agencies procure contracts, ii) the contract confirmation letter, iii) an overview of the awarded supplier and the products and services available through this contract, and iv) commonly asked questions about Equalis Group membership and how to access any of our publicly procured, competitively solicited contracts.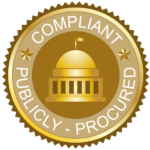 ---
Contract#:
R10-1146A
Lead Agency:
Region 10 ESC
Current Term:
01.01.2023 – 12.31.2025
Renewable Through:
12.31.2027
Who is Epic?
Epic Solar Control is a premier 3M window tinting company providing security window film solutions for schools and commercial buildings. We're not just any window tinting company –we are security window film experts first.
Epic is a trusted service provider for the Presidential White House with roots and expertise in the security window film industry that truly separate us from the window tinting pack.
As a top 3M Prestige Dealer and parents of school-age kids, we understand the critical need to enhance safety and security in our schools and campuses. And we're wholly committed to providing insightful guidance, premium quality products, unmatched installation quality, as well as superior customer service, end-to-end.
To us, integrity and quality matter – because our kids and schools matter. We're also a 100% Woman-Owned Business.
Products
Our vast product portfolio includes School Security & Safety window film solutions, window & door graphics, decorative & privacy glass, and a full line of window coverings and roller shades.
Who We Serve
We are proud to partner with commercial businesses and schools across Texas, the United States, and even around the globe, with millions of square feet of window film installed worldwide. Our recent school projects include notable ISDs and private campuses, including Denton ISD, Princeton ISD, Paris ISD, La Vega ISD, Graford ISD, Bland ISD, Avery ISD, Anna ISD, and many more.
Why Choose Epic?
Your complete satisfaction is our #1 Goal. We're window tinting experts, and we want you to have the best window film product – and the best window tinting experience. From the moment of our first contact, you'll know we're on your side.
Our team of experienced professionals will work with you to find the best solution for your needs. And we will continue to surprise and delight you through installation and project completion.
We're so confident in our products and service; all our work comes with comprehensive guarantees. Rest assured –we have you covered.
You're #1 in our book.
We develop relationships that make a positive difference in our customers' lives. We guarantee an enjoyable experience that meets or exceeds your project objectives – and your expectations.
Quality is in our DNA.
We provide outstanding products and unsurpassed service that deliver premium value to our customers.
Integrity matters.
Our partnership with our clients is based on mutual trust, and we do what is best for our clients, following our company's values and precise quality standards.
Our Promise to You
At Epic, we provide entrepreneurial and confident leadership in a fun, fair, and positive environment. We apply our core values through gratitude and hard work. And we use competent judgment and care about the outcome.
Our goal is to deliver high-quality work within budget and on schedule — every time, no matter the size or scope of the project. But we also strive to deliver something rarely experienced in our field. A truly enjoyable experience for all stakeholders.
How Do I Get Started?
If you are not yet a part of the Equalis Group family, Become a Member today to access our entire portfolio of contracts. We promise there are never any costs, hidden fees, gimmicks, or volume commitments.
Accessing this publicly procured contract vehicle is easy and hassle-free. Please reach out to your Member Engagement Resource or fill out the Contract Interest Form at the top of this page.
Save Time, Save Money & Stay Legal with Equalis Group.