The HVAC Company Contract Highlights
The HVAC Company offers client-focused, full service commercial HVAC service contractor providing both in-house mechanical and controls expertise capable of developing turnkey solutions, custom-designed to meet our customers' needs.
Expect great value and responsive service from a non-union, locally owned service contractor offering competitive co-op pricing through Equalis, combined with a large and growing fleet of service trucks and qualified technicians covering the entire state of Arizona.
Highly responsive, 24/7 service operation supported by hands-on ownership alongside experienced client support staff all connected to our trained and certified field technicians in real time through a cloud-based, mobile field management system.
Vendor neutral equipment and parts purchasing capabilities with accounts established at all major manufacturers and suppliers.
Our commitment to our employees and customers is unparalleled in both quality workmanship and safety.
We REPAIR, REBUILD, and REPLACE all types and sizes of commercial HVAC equipment and Controls for Central Plants, Water-source, Air-cooled, DX/Rooftop, and VAV systems; VRF and other specialty technologies as well as Low-temp Refrigeration.
Download this contract confirmation letter to secure written documentation of the Master Agreement and Contract # for your files, as well as additional information about the contract, utilization eligibility, and how to receive answers to any additional questions you may have.
Who is The HVAC Company?
Established in 2012 as B2B Direct Sales, Inc., the company was started as a multi-industry, service sales agency focused on the trades. The HVAC Company was created in mid-2020 for the purpose of filling a TRUE service-centered contractor void in the Arizona commercial HVAC industry. Each of the three owners saw the same service void in the Arizona market and realized they each brought a different, yet complimentary key skill set to form a successful commercial HVAC service company – project management, service management, and B2B business development. In 2 short years, the company has grown to over 20 employees, developed a strong clientele and service maintenance base in the property management, public contracting, and corporate facilities sectors of the Arizona commercial HVAC service market.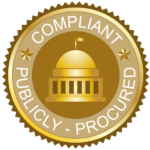 ---
Contract#:
R10-1132E
Lead Agency:
Region 10 ESC
Current Term:
05.01.2022 – 04.30.2025
Renewable Through:
04.30.2027
How Do I Get Started?
If you are not yet a part of the Equalis Group family, Become a Member today to access our entire portfolio of contracts. We promise there are never any costs, hidden fees, gimmicks, or volume commitments.
Accessing this publicly procured contract vehicle is easy and hassle-free. Please reach out to your Member Engagement Resource and let us help you achieve your procurement goals today.
Save Time, Save Money & Stay Legal with Equalis Group.