WillScot Contract Highlights
350,000 high-quality modular units in 250+ locations across North America, ready to mobilize.
Ability to meet any space need, from a classroom to single building to multistory, modular complexes and can handle any site, from dense urban centers to remote locations.
Over 4,500 experts standing ready to configure space to meet a full range of needs.
Single reliable source for perfectly configured space that is ready to work right away.
Turnkey solution covering everything needed to complete the workspace, from stairs and security to furnishings, fixtures, technology, insurance and much more.
Download this contract confirmation letter to secure written documentation of the Master Agreement and Contract # for your files, as well as additional information about the contract, utilization eligibility, and how to receive answers to any additional questions you may have.
Who is Willscot?
WillScot is focused on doing one thing very well – making it easy for their customers to get the temporary space and storage they need, configured exactly to their specifications, delivered and set up so they're ready to work from day one.
Everything about WillScot's company and culture is geared toward providing this value – now more than ever. In 2020 WillScot merged with portable storage leader Mobile Mini, allowing them to serve the total site like no one else can. They have the largest fleet of quality mobile offices and portable storage units, the full array of add-on options to outfit the space inside and out, the largest network in North America and the most capable team of experts in the industry. All of these assets stand ready to serve your needs – any time, any place.
It all goes back to doing that one thing very well. We focus on what we do best, so you can focus on what you do best – working your project, being productive, staying safe and meeting your goals.
Learn more at: www.willscot.com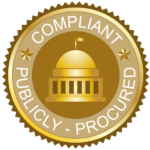 ---
Contract#:
COG-2105B
Lead Agency:
CCOG
Contract Term:
11.01.2020 – 10.31.2025
Renewable Through:
10.31.2030
How Do I Get Started?
If you are not yet a part of the Equalis Group family, Become a Member today to access our entire portfolio of contracts. We promise there are never any costs, hidden fees, gimmicks, or volume commitments.
Accessing this publicly procured contract vehicle is easy and hassle-free. Please reach out to your Member Engagement Resource and let us help you achieve your procurement goals today.
Save Time, Save Money & Stay Legal with Equalis Group.