Euna Procure™ Contract Highlights
BONFIRE IS NOW A EUNA SOLUTIONS™ BRAND
Purchasing Euna Procure™ through Equalis gives you access to Euna Procure™ Intake, RFP Evaluations, and Contract Management—enabling you to bring your entire procurement process online.
Save 10% on all available Euna Procure™ modules as an Equalis member.
Gain unlimited access to coaching and support from Euna Procure's™ award-winning Client Experience team so you can focus on making a positive, tangible impact on the health and future of your agency.
Reach more vendors by accessing Euna Procure's™ constantly growing database of over 95K suppliers.
Get onboarding and support for your existing vendors to make the transition process seamless and easy for you and for your vendors.
Through this contracting vehicle, you have the flexibility to supercharge your digitization efforts by contracting one or a combination of purpose-built, cloud solutions for procurement (Euna Procure™), budgeting (Euna Budget™), permits (Euna Permits™), payments (Euna Payments™), and grant management (Euna Grants™).
Download this contract confirmation letter to secure written documentation of the Master Agreement and Contract # for your files, as well as additional information about the contract, utilization eligibility, and how to receive answers to any additional questions you may have.
Who is Euna Procure™?
The Euna Procure™ solution brings the entire procurement process online, ensuring 100% compliance, reducing cycle times, and improving transparency. Through the power of tools optimized for collaboration and in-app access to RFP insights and templates (surfaced from Euna Procure's™ library of 40,000+ projects), Euna Procure™ unlocks a procurement teams potential to drive better agency impact, achieve better outcomes, and engage colleagues along the way. Euna Procure's™ proven history of customer driven innovation is trusted by over 500 public procurement teams across North America. Visit Euna Procure™ for more information.
"Euna Procure™ does more than we expected it to do, and still has more potential to change the way we do things."
– Bay Area Metro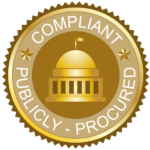 ---
Contract#:
R10-1122A
Lead Agency:
Region 10 ESC
Current Term:
09.01.2021 – 08.31.2024
Renewable Through:
08.31.2028
How Do I Get Started?
If you are not yet a part of the Equalis Group family, Become a Member today to access our entire portfolio of contracts. We promise there are never any costs, hidden fees, gimmicks, or volume commitments.
Accessing this publicly procured contract vehicle is easy and hassle-free. Please reach out to your Member Engagement Resource or quickly send the Contract Interest Form at the top of this page.
Save Time, Save Money & Stay Legal with Equalis Group.