Euna Payments™ Contract Highlights
GTY TECHNOLOGY IS NOW A EUNA SOLUTIONS™ BRAND
Join 100+ government agencies, cities, counties, states, and utilities that use Euna Payments™ for hassle-free payments and digital services.
Let customers pay a bill, request a service, and find information in ways that work for them.
Integrated technology provides your customers and staff with real-time information about an account and streamlines payment processing and revenue management across every channel and department.
Through this contracting vehicle, you have the flexibility to supercharge your digitization efforts by contracting one or a combination of purpose-built, cloud solutions for procurement (Euna Procure™), budgeting (Euna Budget™), permits (Euna Permits™), payments (Euna Payments™), and grant management (Euna Grants™).
Critical Supporting Documentation
Download this contract confirmation letter to secure written documentation of the solicitation and awarded contract, the Contract # for your files, utilization eligibility, and how to receive answers to any additional questions you may have.
Share The Member Kit With Your Procurement Team
Facilitate your procurement and compliance team's review and approval of this cooperative contract by providing them this Member Kit. The Member Kit contains: i) an overview of Equalis Group and how our Lead Agencies procure contracts, ii) the contract confirmation letter, iii) an overview of the awarded supplier and the products and services available through this contract, and iv) commonly asked questions about Equalis Group membership and how to access any of our publicly procured, competitively solicited contracts.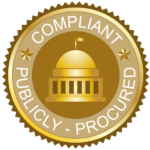 ---
Contract#:
COG-2139C
Lead Agency:
CCOG
Current Term:
01.01.2023 – 12.31.2026
Renewable Through:
12.31.2027
Who is Euna Payments™?
Euna Payments™ makes government and utility technology that modernizes and unifies the way people find, apply, and pay for services. More than 100 government agencies, utilities, cities, and counties use Euna Payments™ technology to provide hassle-free payments and digital services to their customers and staff. Euna Payments™ integrates payment functionality, business processes, and communications onto a central, cloud-based platform that consumers can access through the web, mobile, kiosk, or point of sale.
Learn more at www.EunaSolutions.com/Solutions/Payments.
How Do I Get Started?
If you are not yet a part of the Equalis Group family, Become a Member today to access our entire portfolio of contracts. We promise there are never any costs, hidden fees, gimmicks, or volume commitments.
Accessing this publicly procured contract vehicle is easy and hassle-free. Please reach out to your Member Engagement Resource or quickly send the Contract Interest Form at the top of this page.
Save Time, Save Money & Stay Legal with Equalis Group.