Honeywell Contract Highlights
Honeywell offers Energy Savings Performance Contracts (ESPCs) to help organizations achieve energy and operational savings as well as support carbon reduction goals. Working within an organization's existing cost structure, an ESPC funds itself from the savings achieved with guaranteed energy savings.
ESPCs begin with an energy audit of the entire building infrastructure as well as an energy supply analysis to get a clear picture of energy consumption, identify areas for improvement and calculate the carbon impact of a more efficient operation.
Honeywell has experience helping facilities managers all over the word make sustainability goals and infrastructures upgrades financially feasible. Honeywell has served building customers including schools, hospitals, laboratories, commercial & industrial, central utility plants and government entities.
Download this contract confirmation letter to secure written documentation of the Master Agreement and Contract # for your files, as well as additional information about the contract, utilization eligibility, and how to receive answers to any additional questions you may have.
Who is Honeywell?
Honeywell Building Technologies (HBT) is transforming the way every building operates to help improve the quality of life. Honeywell is a leading building controls company with operations in more than 75 countries supported by a global channel partner network. Commercial building owners and operators use Honeywell hardware, software and analytics to help create safe, efficient and productive facilities. Honeywell solutions and services are used in more than 10 million buildings worldwide.
Honeywell is a Fortune 100 technology company that delivers industry specific solutions that include aerospace products and services; control technologies for buildings and industry; and performance materials globally. Honeywell technologies help aircraft, buildings, manufacturing plants, supply chains, and workers become more connected to make our world smarter, safer, and more sustainable.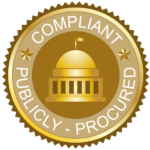 ---
Contract#:
R10-1143B
Lead Agency:
Region 10 ESC
Current Term:
01.01.1.2023 – 12.31.2025
Renewable Through:
12.31.2027
How Do I Get Started?
If you are not yet a part of the Equalis Group family, Become a Member today to access our entire portfolio of contracts. We promise there are never any costs, hidden fees, gimmicks, or volume commitments.
Accessing this publicly procured contract vehicle is easy and hassle-free. Please reach out to your Member Engagement Resource or quickly send the Contract Interest Form at the top of this page.
Save Time, Save Money & Stay Legal with Equalis Group.