Bloomz + The Scholastic Network
A Complete Solution To Your School Communication Needs
Bloomz and The Scholastic Network (TSN) have partnered to offer the most complete school and district communication solution. Bloomz gives school and district administrators all the tools they need to communicate with parents, students and staff anywhere they are, with powerful and easy-to-use mobile and web applications. The Scholastic Network gives district and school leaders the ability to broadcast important messages to students, staff, the community and key stakeholders both on & off campus through one simple, digital display network.
When your school or district implements Bloomz and TSN together, you get a holistic solution to school communication that includes school-wide communication, event coordination, classroom management and a unified campus & community broadcast network. This ensures your entire community stays informed and up-to-date, creating an environment of inclusion.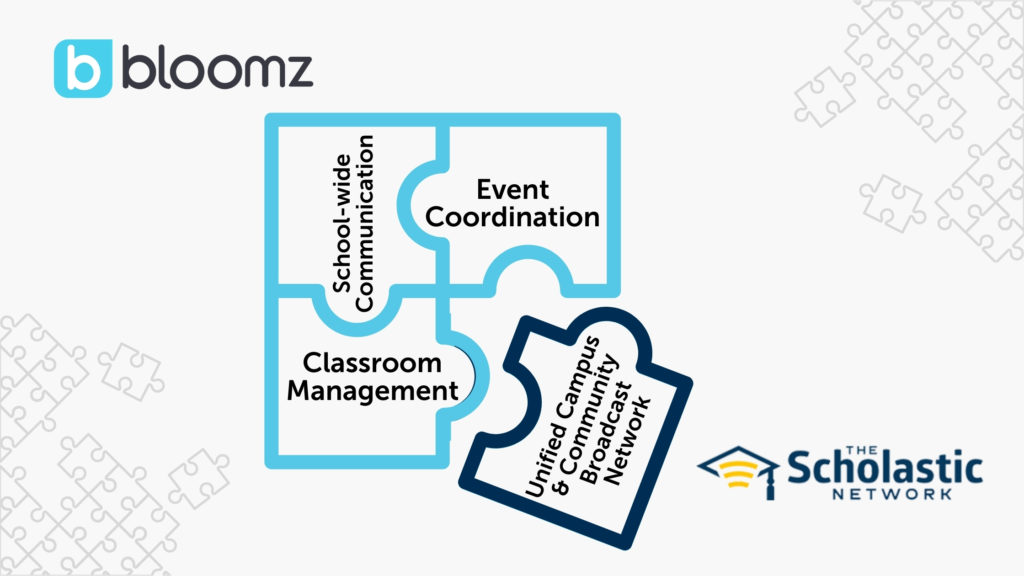 Critical Supporting Documentation
Download this contract confirmation letter to secure written documentation of the solicitation and awarded contract, the Contract # for your files, utilization eligibility, and how to receive answers to any additional questions you may have.
Share The Member Kit With Your Procurement Team
Facilitate your procurement and compliance team's review and approval of this cooperative contract by providing them this Member Kit. The Member Kit contains: i) an overview of Equalis Group and how our Lead Agencies procure contracts, ii) the contract confirmation letter, iii) an overview of the awarded supplier and the products and services available through this contract, and iv) commonly asked questions about Equalis Group membership and how to access any of our publicly procured, competitively solicited contracts.
Who is Bloomz?
The #1 App For All of Your Communication
Bloomz is the mobile and web app that allows teachers to share instant messages, announcements, photos, calendars, volunteer and conference sign-ups, student portfolios, and more through one easy-to-use interface. Teachers can control who can reach them and when without shutting down the communication pipeline, and now with Robocalling, Bloomz is truly a comprehensive solution to school-wide communication.
Bloomz creates a private and secure environment for the school community to thrive in. Online portfolios mean that assignments don't get lost. With the ability to translate more than 100 languages, Bloomz makes sure that even language barriers can't get in the way of school communication.
Administrators use the app to track parental involvement through engagement reports, gain visibility into classroom communications, and target specific audiences for announcements by sending information to individuals, specific classrooms, or the whole school or district.
Bloomz Offerings & Capabilities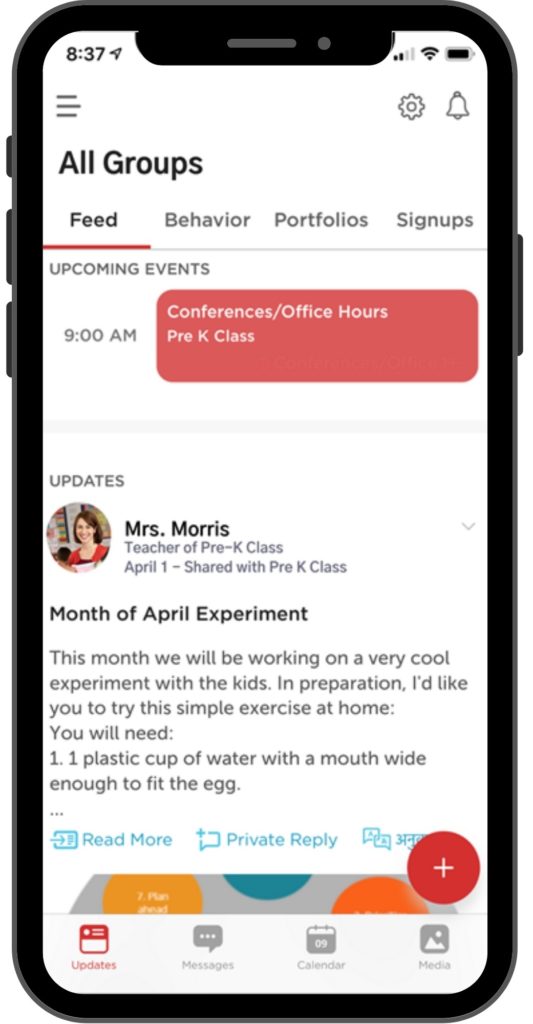 Bloomz Communication
Bloomz is the only tool on the market designed to engage every member on campus through a single mobile or web-based app while providing specialized communication tools at the district, school site, classroom and individual group/sub-group level.
Tools & permissions dynamically change based on user role (ex: District Administrator, Site Administrator, Teacher, PTA President, Staff, Parent, Student). Posting, photo/video sharing, announcements, and urgent alerts can be sent to an entire district or specific sites/classes/groups and further refined to include only specific user roles.
Bloomz accounts are registered to email and/or primary & secondary phone numbers which allows for multiple notification preferences including SMS Text, Email, Push (mobile app), and robocall.
Bloomz is highly configurable and supports multiple classroom modes to meet the varying demands of different age groups. For example, Middle/High School mode enables individual student account access to stay plugged in to school/class information feeds, events, assignment due dates as well as scheduling office hours or sending two-way communication to teachers. All administrators have full access to the communications in their communities, allowing them to flag and delete undesired content.
Bloomz communication tools include:
Posts & Updates
Announcements
Emergency Alerts
Translation to 100+ Languages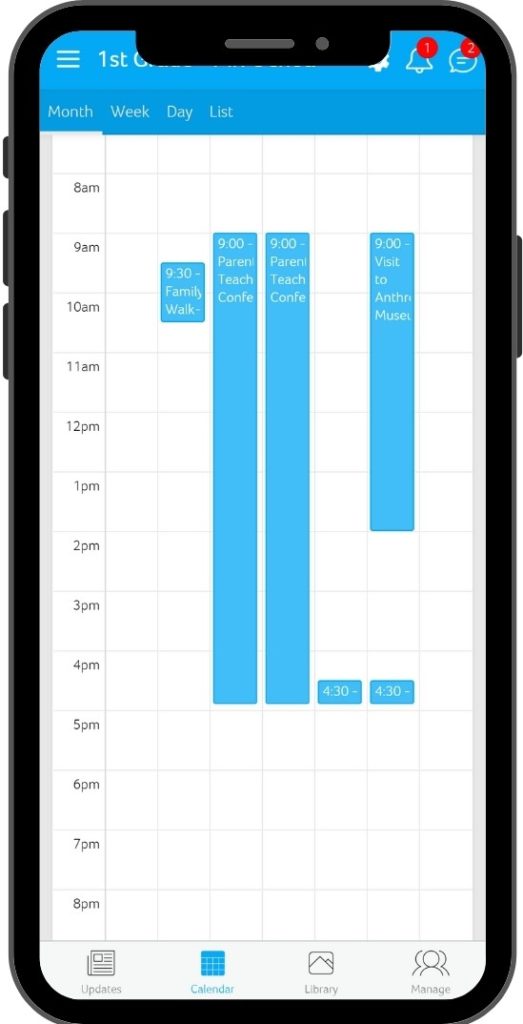 Bloomz Coordination 
Bloomz features a suite of coordination tools designed for districts, schools, and teachers to safely communicate and coordinate events, class assignments and assessments, parent-teacher conferences, volunteer opportunities, and so much more.
The Bloomz calendar features customizable views to preview an entire month, plan the upcoming week, or review each morning. Parents of multiple children can also see a color-coded aggregate of all member calendars in a single view. Individual calendar views for separate groups and classrooms, as well as an aggregate calendar view on the main feed of Bloomz.
Bloomz coordination features include:
Event RSVP & Forced Reminders
Parent-Teacher Conference Sign-Up
Student Office Hours
Volunteer/Donation Sign-Up
Sync External School and/or Class Calendars via iCal Links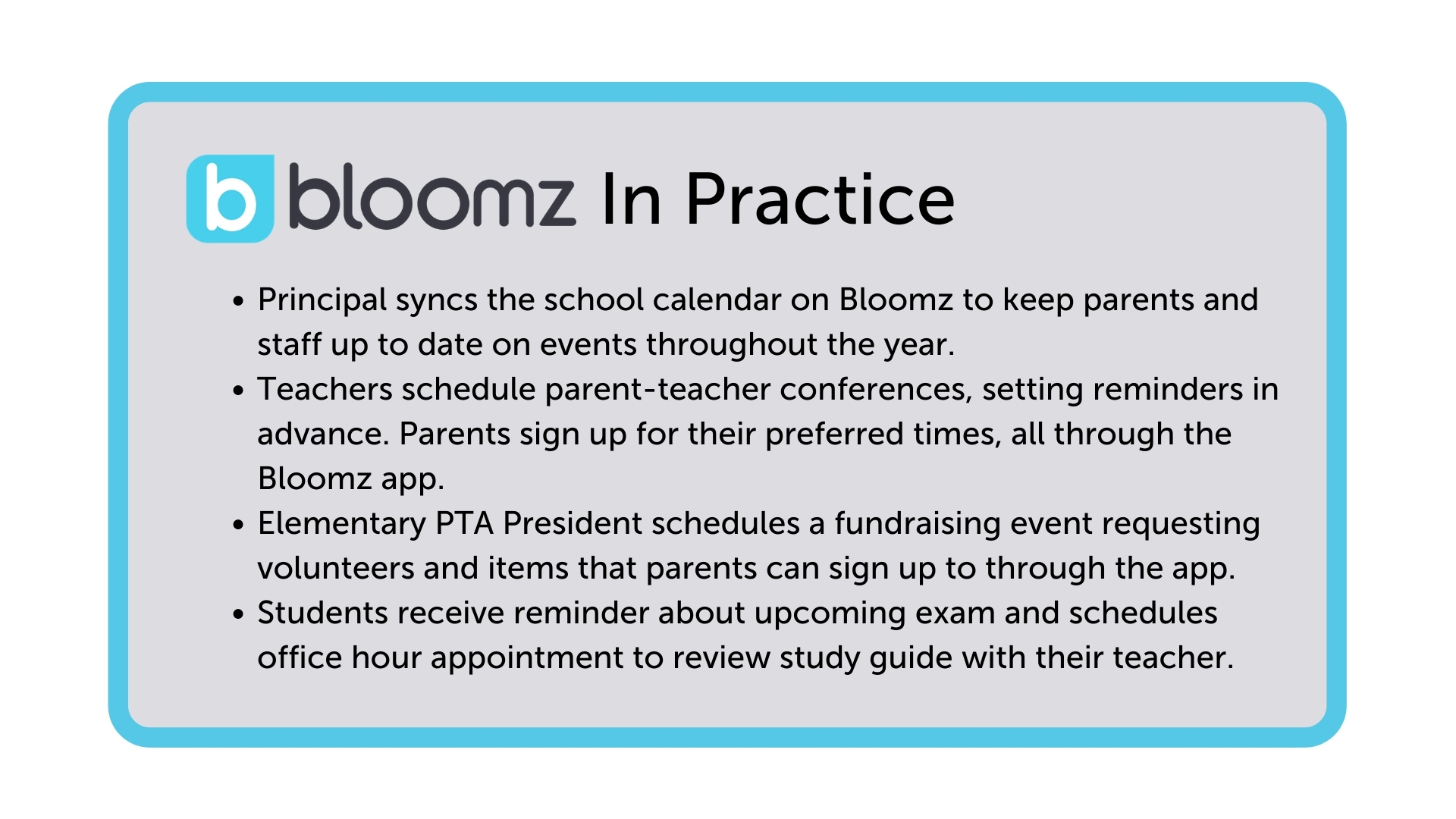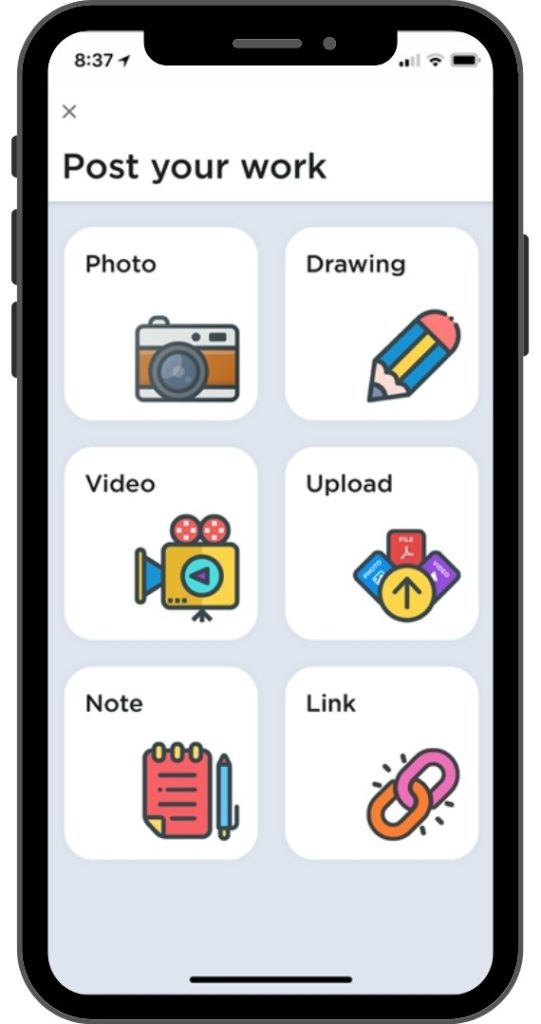 Bloomz School & Classroom Management
Bloomz is designed to encourage collaboration among students, classrooms, teachers, staff, and even administrators. With Bloomz, leaders and teachers can create sub-groups, community groups, and faculty groups to ensure connectedness within a school or across a district.
Bloomz fosters a safe and secure environment for student-to-student messaging, with administrative and teacher oversight, to encourage communication among classes.
Whether a school is offering in-person, hybrid, or remote learning to families, Bloomz' flexible platform supports effective and efficient collaboration among students and staff.
Bloomz school and classroom management features include:
Student Portfolios & Assignments
Behavior Tracking
Subgroups (PTA, Athletics, etc.)
Staff Roles
Shared Libraries (Media, Assignments, etc.)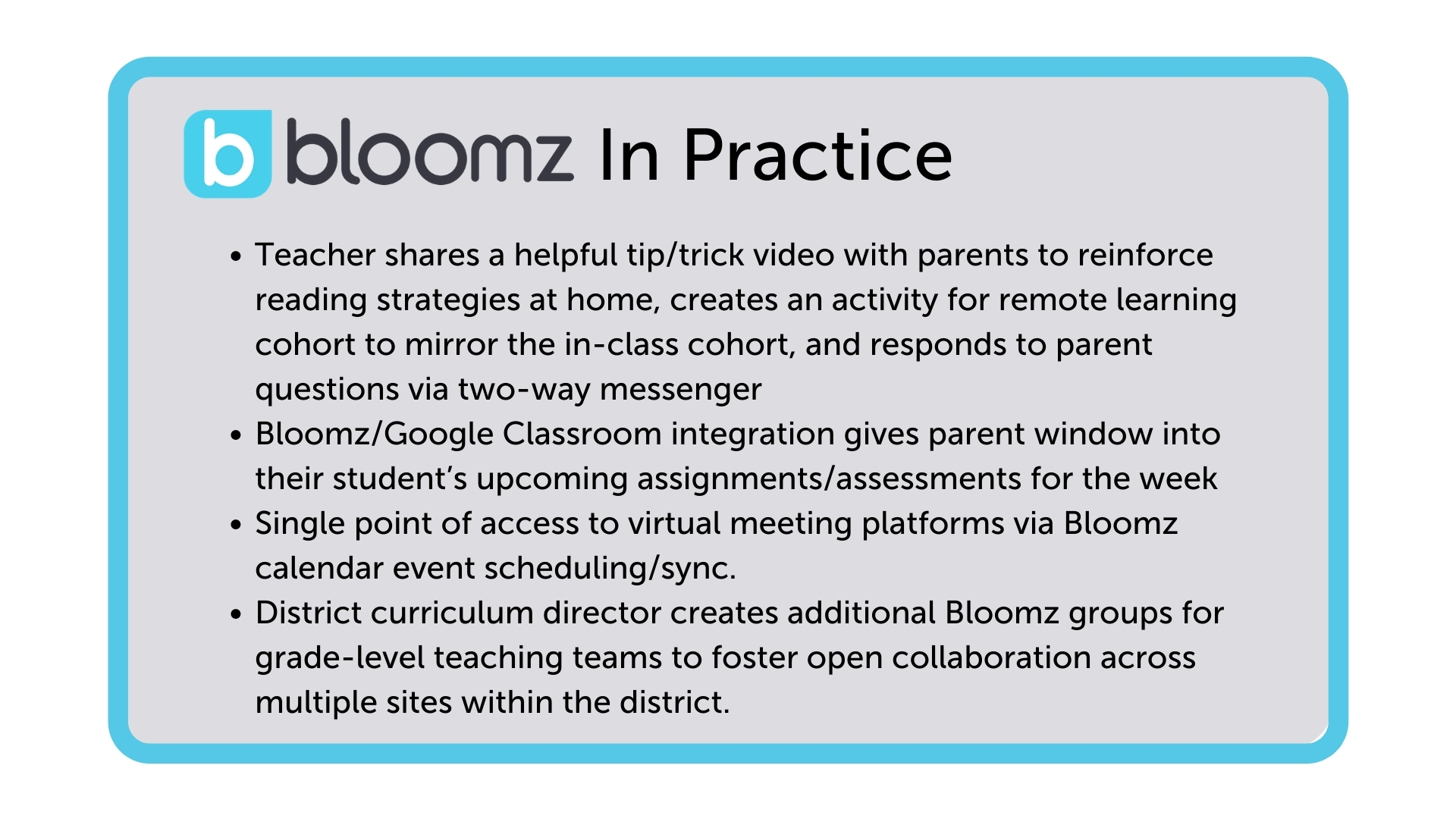 Who is The Scholastic Network?
Build Culture & Community Through Communication
The Scholastic Network (TSN) is a digital broadcast network designed to solve unique communication challenges in schools by unifying on & off campus communication. With The Scholastic Network, district and school leaders can broadcast messages on campus, through virtual learning systems and in the community all from one easy-to-use, web based portal. With proven partnership across Texas & Florida, The Scholastic Network is the leader in digital broadcast networks.
The Scholastic Network Offerings & Capabilities
The Scholastic Network Full Capabilities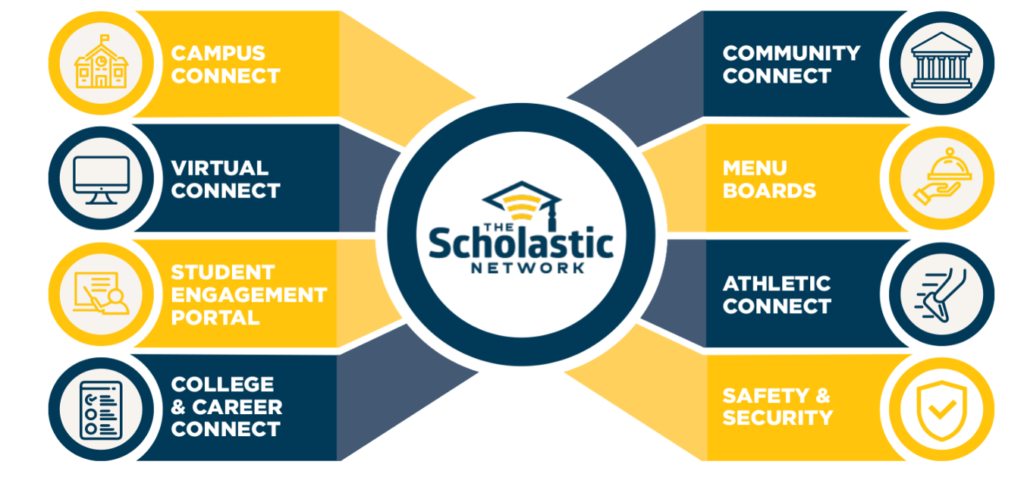 The Scholastic Network makes the most of your existing technology by turning screens into a powerful broadcast network.
Simply connect to our network and within minutes, district and school leaders can display messages through slides, videos, live feed and more.
Customize and control your content to build school culture, inspire students & keep staff, the community & key stakeholders informed.
With The Scholastic Network, choose your access to the following:
Campus Connect:
Build culture & control the narrative with dynamic messaging on campus and across your entire district. Engage students & staff with
motivational messages, educational information & creative contests. Campus Connect includes:
Student Engagement Portal: Engage students in the creative process & provide project-based learning.
College & Career Connect: Inspire students to find the best path for their future with messaging directly from College & Career partners.
Content Library: Our content library which includes health & safety content, social emotional videos, holiday templates & more.
Bell Schedules: Customize your bell schedules and visibly display across campus.
Live Feeds: Connect students to real world learning by broadcasting important live events. Broadcast live school events across campus.
Safety & Security: Keep students & staff safe with COVID safety messaging & one-click emergency alert.
Menu Boards:
Simple, dynamic platform for menus, nutritional information and more. Easily flip to Campus Connect for more campus & district coverage.
Athletic Connect:
Target Messages to student athletes and fans wherever they train or gather. Tabata clock, training videos and more included. Easily flip to Campus Connect for more campus & district coverage.
Virtual Connect:
Create unity with remote learners by broadcasting your Campus Connect network directly to your LMS & website.
Community Connect:
Keep your community & key stakeholders informed & engaged with important district information.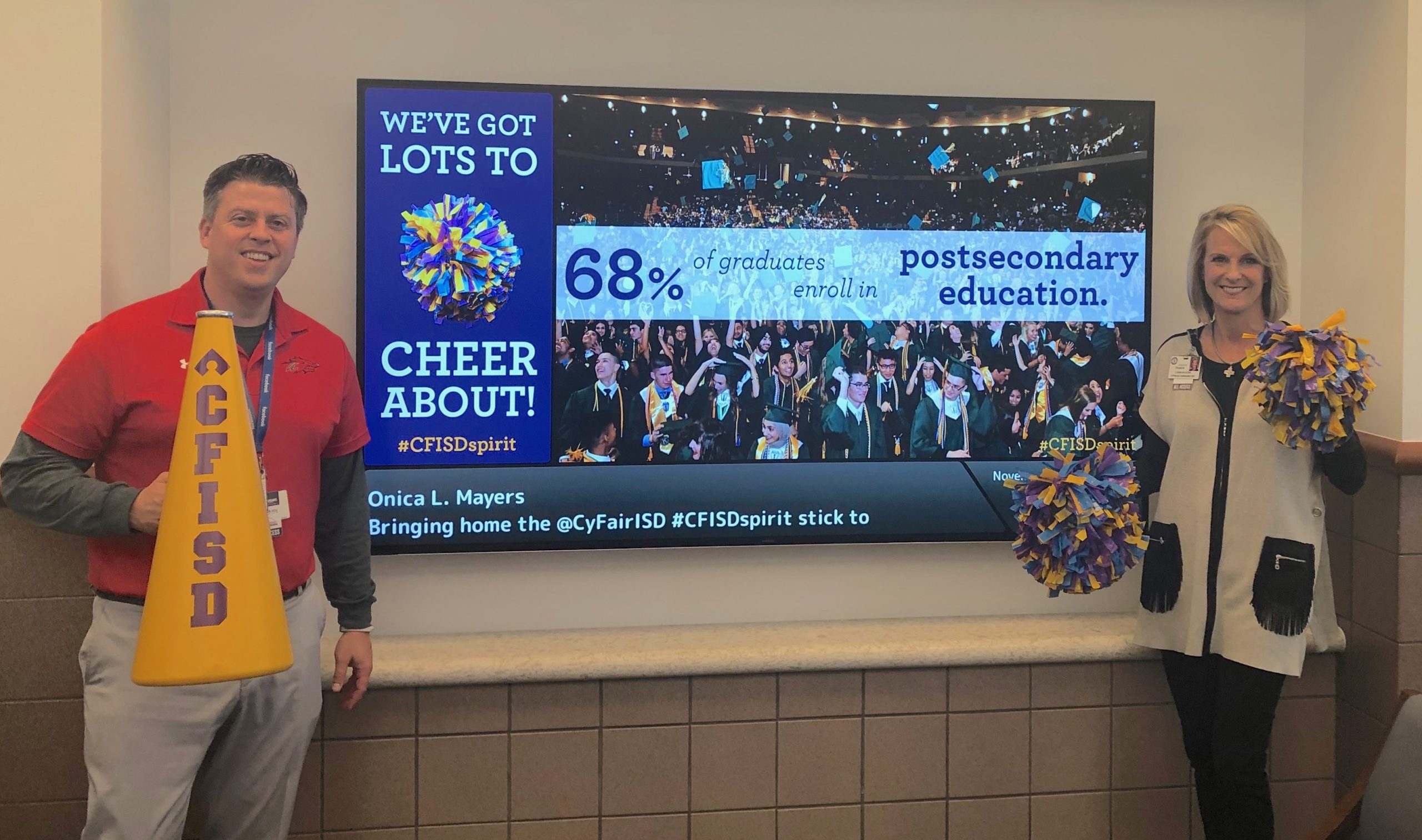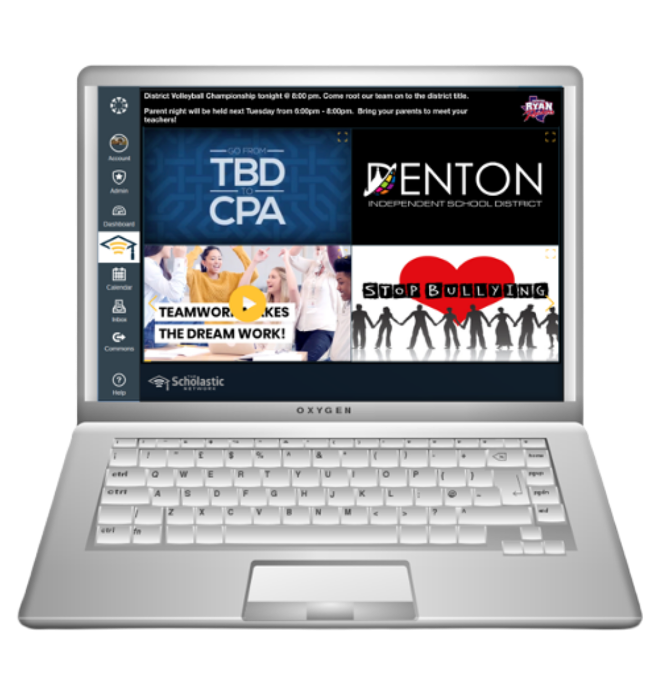 TSN Virtual Connect
The Scholastic Network seamlessly integrates with your LMS system to ensure remote learners are receiving the same messages as in-person students, including college & career messages.
Create community & connection with all of your students by sharing the same information with all. You can help all students to feel connected to your school's community by providing a real time experience from anywhere in the world.
TSN Community Connect
Partner with local businesses to share important school & district messages in your community & with key stakeholders. Simply connect The Scholastic Network to TV's in local businesses and start broadcasting your messages instantly.
Key stakeholders include:
Teachers & Students
Employees
Tax Payers
Bond Election Voters
Businesses
Government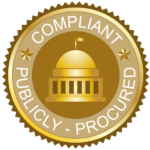 ---
Contract#:
R10-1108A
Lead Agency:
Region 10 ESC
Current Term:
01.01.2021 – 12.31.2025
Renewable Through:
12.31.2027
How Do I Get Started?
If you are not yet a part of the Equalis Group family, Become a Member today to access our entire portfolio of contracts. We promise there are never any costs, hidden fees, gimmicks, or volume commitments.
Accessing this publicly procured contract vehicle is easy and hassle-free. Please reach out to your Member Engagement Resource or quickly send the Contract Interest Form at the top of this page.
Save Time, Save Money & Stay Legal with Equalis Group.
For Product or Pricing Specific Questions, Please Contact: