Shred-it Contract Highlights
A comprehensive offering of on-site or off-site secure document, hard drive, and media information destruction with regularly scheduled, one-time, and drop-off service options available.
Competitively negotiated pricing based on a not-to-exceed pricing structure.
Accessible and convenient local, regional, and national service.
A Certificate of Destruction provided after every service to document compliance with applicable destruction standards.
A strong commitment to environmental sustainability demonstrated by recycling 100% of all paper shredded, utilizing consoles made from 100% recycled wood, and leveraging a fleet of smaller and more fuel-efficient trucks with idle-down technology to reduce emissions.
Download this contract confirmation letter to secure written documentation of the Master Agreement and Contract # for your files, as well as additional information about the contract, utilization eligibility, and how to receive answers to any additional questions you may have.
Who is Shred-it?
Shred-it, a subsidiary of Stericycle, is the largest document and information destruction provider in the world. In 14 countries and in 170 markets, it has become the world-standard industry best practice for information security and workplace privacy.
In the more than 30 years since its inception, Shred-it has developed proprietary technologies, exclusive protocols and practices, and innovative products and services designed exclusively to protect enterprises of any size from the ongoing threats and risks of workplace privacy breaches.
As the trusted choice of both small businesses and large organizations, you will find Shred-it is the preferred partner across almost every sector – from government and healthcare, universities and colleges, banks and financial institutions, to police forces, military, and intelligence agencies.
Shred-it is a subsidiary of Stericycle, a U.S. based business-to-business services company and leading provider of compliance-based solutions that protect people and brands, promote health, and safeguard the environment.
Shred-it Safeguards Your Business
Shred-it Secure:
Document Destruction, the industry best-practice, providing paper shredding services tailored to our customers' specific needs.
Shred-it Specialized Products & Services:
Take workplace protection beyond paper shredding with auditing tools, and Hard Drive Destruction.
Shred-it Workplace Privacy Policies:
Keep your business secure every day by ensuring every employee understands where the risks for a privacy breach occur and the steps they can take to ensure security.
Shred-it Secure Chain of Custody:
Better-than-industry standard of practices and protocols ensure confidential information remains secure at every stage of the destruction process.
Shred-it Certified Information Security Professionals:
Specially-trained and certified professionals deliver friendly customer service and the highest level of expertise.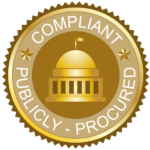 ---
Contract#:
COG-2109A
Lead Agency:
CCOG
Contract Term:
01.01.2021 – 12.31.2025
Renewable Through:
12.31.2025
How Do I Get Started?
If you are not yet a part of the Equalis Group family, Become a Member today to access our entire portfolio of contracts. We promise there are never any costs, hidden fees, gimmicks, or volume commitments.
Accessing this publicly procured contract vehicle is easy and hassle-free. Please reach out to your Member Engagement Resource and let us help you achieve your procurement goals today.
Save Time, Save Money & Stay Legal with Equalis Group.