Transact Campus Contract Highlights
Technology for a Connected Campus – Transact Campus is your go-to for mobile-centric campus technology for integrated campus payments, campus ID, and campus commerce solutions.
Entire Suite – Transact Campus' entire suite of software, hardware and implementation services is available for purchase with this Equalis Contract.
Competitive Pricing – The most aggressively discounted pricing for colleges, universities and higher education systems in all 50 states.
Critical Supporting Documentation
Download this contract confirmation letter to secure written documentation of the solicitation and awarded contract, the Contract # for your files, utilization eligibility, and how to receive answers to any additional questions you may have.
Share The Member Kit With Your Procurement Team
Facilitate your procurement and compliance team's review and approval of this cooperative contract by providing them this Member Kit. The Member Kit contains: i) an overview of Equalis Group and how our Lead Agencies procure contracts, ii) the contract confirmation letter, iii) an overview of the awarded supplier and the products and services available through this contract, and iv) commonly asked questions about Equalis Group membership and how to access any of our publicly procured, competitively solicited contracts.
Transact Campus Solutions
Integrated Payment Solutions
Transact's Integrated Payment Solutions deliver diversified payment, tuition, commerce, and bill presentment solutions that leverage innovative technologies to improve the experience for both students and campus operations. With one centralized payment platform, students and families know exactly where to look to find their balance, pay their bills, understand their tuition obligations, and review their payment options.
This highly configurable platform integrates well with critical school systems, provides administrators with centralized data and management controls, and comes with strong client support.
Campus ID Solutions
Transact's Campus ID Solutions provide a secure, mobile-centric campus environment with contactless student ID credentials for effortless, campus-wide transactions and access privileges. Picture one ID (mobile, physical card, or hybrid) that can unlock a door, manage event access, mark attendance, and more. Campus IDs may also be used for Campus Commerce transactions. You get to decide which capabilities you want for your school. Benefits include centralized, real-time data, contactless and cashless campus options, as well as the ability to remotely lock down buildings and have strong campus safety monitoring abilities.
Campus Commerce Solutions
Transact's Campus Commerce Solutions power campus purchases across integrated point-of-sale solutions for student accounts tied to campus ID cards and mobile credentials. Streamline purchasing on- and off-campus with Transact's Campus Commerce Solutions. You have your pick of campus commerce capabilities such as meal plans, dining, bookstores, concessions, printing, retail, mobile-ordering, vending, and more.
Transact's mobile-centric Campus Commerce Solutions can also support contactless and cashless campus initiatives. Centralized access to real-time transaction data equips administrators to make data-backed decisions on resource allocation, budgeting, marketing opportunities, and more.
You're in Good Company
Transact's exceptional, industry-wide reputation allows us to pass on valuable partnerships to our customers.
Who is Transact Campus?
Transact offers a highly configurable, mobile-centric campus technology ecosystem. Offerings span integrated payment solutions for tuition and fees to multi-purpose campus IDs that can be used for everything from door and event access to campus commerce solutions for meal plans, mobile ordering, retail payments, and more.
Bringing such a wide range of capabilities under a single provider allows for centralized, streamlined data and reduced administration costs. Moreover, real-time data equips administrators with the insight they need to make wise decisions about policy, budget, and resource allocation.
Transact solutions empower administrators to elevate the student experience and cultivate loyalty well past graduation- all while reducing complexity for students, families, and staff.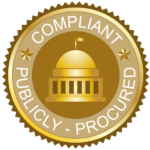 ---
Contract#:
R10-1107B
Lead Agency:
Region 10 ESC
Current Term:
01.01.2021 – 12.31.2025
Renewable Through:
12.31.2027
How Do I Get Started?
If you are not yet a part of the Equalis Group family, Become a Member today to access our entire portfolio of contracts. We promise there are never any costs, hidden fees, gimmicks, or volume commitments.
Accessing this publicly procured contract vehicle is easy and hassle-free. Please reach out to your Member Engagement Resource or quickly send the Contract Interest Form at the top of this page.
Save Time, Save Money & Stay Legal with Equalis Group.