Fellowes Contract Highlights
Family: For over 100 years, we have treated our customers and employees as family – serving tirelessly and effectively to help them thrive. Our culture is set to be professionally rewarding, but also personally engaging.
Innovation: We believe in combining an imaginative thought with a pragmatic approach to constantly outperform our current solutions, services, and capabilities to transform how work gets done for an everchanging world.
Quality: We invest in best-in-class facilities, tools, resources, engineering labs and development programs to deliver products that exceed industry quality standards.
Care: As a "company with a conscience" we are dedicated to improving the lives of our customers, employees, communities, and planet. People are why and how we do what we do. Whether a customer or a teammate, there is the opportunity to have a positive impact.
Fellowes® AeraMax® Professional air purifiers are commercial-grade air purification systems that remove at least 99.95% of particles as small as 0.1 microns, including allergens, such as pollen, dust, pet dander, and smoke from indoor spaces.
Fellowes Array includes an integrated, breakthrough range of air purifiers, sensors, and monitoring software that can be connected to form a complete network for healthy air in any room, floor, or space.
Download this contract confirmation letter to secure written documentation of the Master Agreement and Contract # for your files, as well as additional information about the contract, utilization eligibility, and how to receive answers to any additional questions you may have.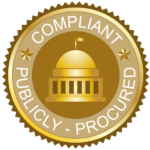 ---
Contract#:
R10-1136E
Lead Agency:
Region 10 ESC
Current Term:
09.01.2022 – 08.31.2025
Renewable Through:
08.31.2027
Who is Fellowes?
Celebrating its 106th year under the private ownership and executive leadership of the Fellowes family, Fellowes is a global leader and trusted partner that provides product solutions to fulfill Work Life needs. With its recent full brand expansion into Contract Interiors, Fellowes now offers one efficient, streamlined source for modular walls, furniture, business machines, commercial air purification and commercial grade workspace products. Throughout its history, Fellowes has been grounded in its purpose to "serve at the intersection of family, innovation, quality and care." Headquartered in Itasca, Illinois, USA, Fellowes operates from 24 locations across the globe.
How Do I Get Started?
If you are not yet a part of the Equalis Group family, Become a Member today to access our entire portfolio of contracts. We promise there are never any costs, hidden fees, gimmicks, or volume commitments.
Accessing this publicly procured contract vehicle is easy and hassle-free. Please reach out to your Member Engagement Resource or quickly send the Contract Interest Form at the top of this page.
Save Time, Save Money & Stay Legal with Equalis Group.