McKesson Medical Supply
Contract Highlights
Access to McKesson medical supply distribution services tailored for your care setting
A single source for medical supplies, pharmaceuticals, laboratory and equipment.
Resources that can help you provide better care
Analytics to improve operational performance and reduce costs
People dedicated to helping you get it done!
Critical Supporting Documentation
Download this contract confirmation letter to secure written documentation of the solicitation and awarded contract, the Contract # for your files, utilization eligibility, and how to receive answers to any additional questions you may have.
Share The Member Kit With Your Procurement Team
Facilitate your procurement and compliance team's review and approval of this cooperative contract by providing them this Member Kit. The Member Kit contains: i) an overview of Equalis Group and how our Lead Agencies procure contracts, ii) the contract confirmation letter, iii) an overview of the awarded supplier and the products and services available through this contract, and iv) commonly asked questions about Equalis Group membership and how to access any of our publicly procured, competitively solicited contracts.
McKesson Medical Supply
Contract Resources
Who is McKesson?
As a leading national distributor of medical-surgical supplies and equipment for government professionals from state agencies to local EMS and schools, our product catalog includes everything you need, from vaccines, pharmaceuticals, wound care supplies and patient transport equipment, to exam gloves, point-of-care testing, AEDs and more. Our experienced and dedicated sales professionals can help provide the products and solutions you need when you need them so you can focus on what matters most — those you serve.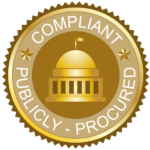 ---
Contract#:
COG-2107A
Lead Agency:
CCOG
Current Term:
01.01.2021 – 12.31.2025
Renewable Through:
12.31.2025
Program Optimization*
As McKesson and Equalis Group continue to build out a compliant medical supply distribution program for the public sector, industry-leading manufacturers of critical products and supplies are providing Equalis Group members with access to even greater savings. Scroll down to learn more about some of these manufacturers.
*We will be updating the section below regularly.
The GOJO Purpose of Saving Lives and Making Life Better Through Well-being Solutions drives every decision our Family Enterprise makes, from the products we create, to the ways we work. As the inventors of PURELL® Hand Sanitizer, GOJO has changed how the world stays well for more than 70 years. We use the best science available to develop well-being solutions for skin and the surfaces people touch – solutions that result in healthier people and a healthy environment at home and away-from-home.
As relentless innovators, driven by an entrepreneurial spirit, we've harnessed the power of the PURELL® brand to create new products that deliver the ideal combination of effective protection from germs and safety for people and the environment. Our latest innovation, the PURELL SOLUTION™ includes PURELL® Instant Hand Sanitizers, PURELL® Surface Sprays, PURELL® Brand HEALTHY SOAP® products with CLEAN RELEASE™ Technology and PURELL® ES8 Dispensing Systems with energy-on-the-refill.
Our complete product portfolio includes heavy-duty hand cleaners, soaps, and wipes, in addition to breakthrough dispensing and electronic hand hygiene compliance monitoring systems.
GOJO USA: Blog Posts
GOJO USA: Blog: Reducing Harsh Chemicals in Classroom Cleaning and Disinfecting
GOJO USA: Blog: Is Your School's Hand Sanitizer Safe? Is It Being Used?
GOJO USA: Blog: Tips for Getting the Cleanest Hands in Schools
GOJO USA: Blog: What Chemicals Are In Your School's Cleaning Products?
GOJO Resources & Solutions
Contact McKesson
McKesson Medical-Surgical Government customer service (833.343.2700) today.
Reference Equalis Group Contract #COG-2107A to ensure you receive Equalis Member pricing.
How Do I Get Started?
If you are not yet a part of the Equalis Group family, Become a Member today to access our entire portfolio of contracts. We promise there are never any costs, hidden fees, gimmicks, or volume commitments.
Accessing this publicly procured contract vehicle is easy and hassle-free. Please reach out to your Member Engagement Resource or quickly send the Contract Interest Form at the top of this page.
Save Time, Save Money & Stay Legal with Equalis Group.